Skorpio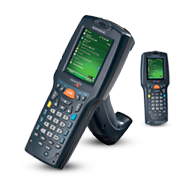 SAP Certified - Integration with SAP Application

GS1 databar compatible

Laser scanner with "Green spot", providing good read feedback (Datalogic patent)
Compact, lightweight and robust
Microsoft Windows Mobile 6.1 and Microsoft Windows CE 5.0 operating systems
Summit embedded 802.11 b/g radio for enterprise-class mobile connectivity with CCX V4 certification
Bluetooth® wireless communications
1.5 m (5 ft) drop resistance
IP64 protection class
Large high visibility color graphic display with touch screen
Wavelink Powered™ with pre-installed and pre-licensed Wavelink® Avalanche™
Pal Application Library prelicensed
APPLICATIONS
Inventory/Picking
Shelf replenishment
Price management
Order entry
Assisted sales
Line busting
Shipping/Receiving
ERGONOMIC AND RELIABLE
Skorpio™ is a rugged mobile computer particularly suitable for mobile commerce solutions in the retail environment both on store shelves and in the stock room. Thanks to one of the best ergonomics ever seen on the market, Skorpio™ reduces operator fatigue with no compromise in terms of reliability and robustness, resisting harsh environments, multiple drops, strong shocks and repetitive tumbles. Skorpio Gun™ takes advantage of the best handle and trigger in the warehouse industry. Compact size and light weight combine to offer excellent balance, and superior handling.

WIRELESS COMMUNICATION
Its wireless communication capabilities (Bluetooth®, certified 802.11b/g radio) enable fast transactions and complete interaction with information systems including the newest RF security protocols such as WPA™ and WPA2™. Moreover, Cisco Compatible Extensions (CCX) certification Version 4 permits all the advantages offered by the Cisco WLAN infrastructure to be exploited.

"GREEN SPOT" FEEDBACK
Skorpio™ offers the unique feature of integrated data capture technology combined with "green spot" feedback (Datalogic patent), providing a "good read" green dot directly on the code, where the operator usually tends to be looking.

USER-FRIENDLY
The Skorpio™ large high visibility color graphic display with touch screen helps users work more efficiently, while the practical 38-key "alpha & numeric" keypad and the simplified 28-key numeric keypad allow data, codes and descriptions to be input very quickly. It offers a choice between the standard Windows Mobile 6.1 and Windows CE 5.0 operating systems.